Best Dog Crates for German Shepherd: When looking for the best dog crate for your German shepherd, you can find hundreds of different options. Here is our guide to finding the best one for your German Shepherd Dog and our recommendations.
This guide is intended to make choosing a good dog crate for your German shepherd and also to make your research easy and simple.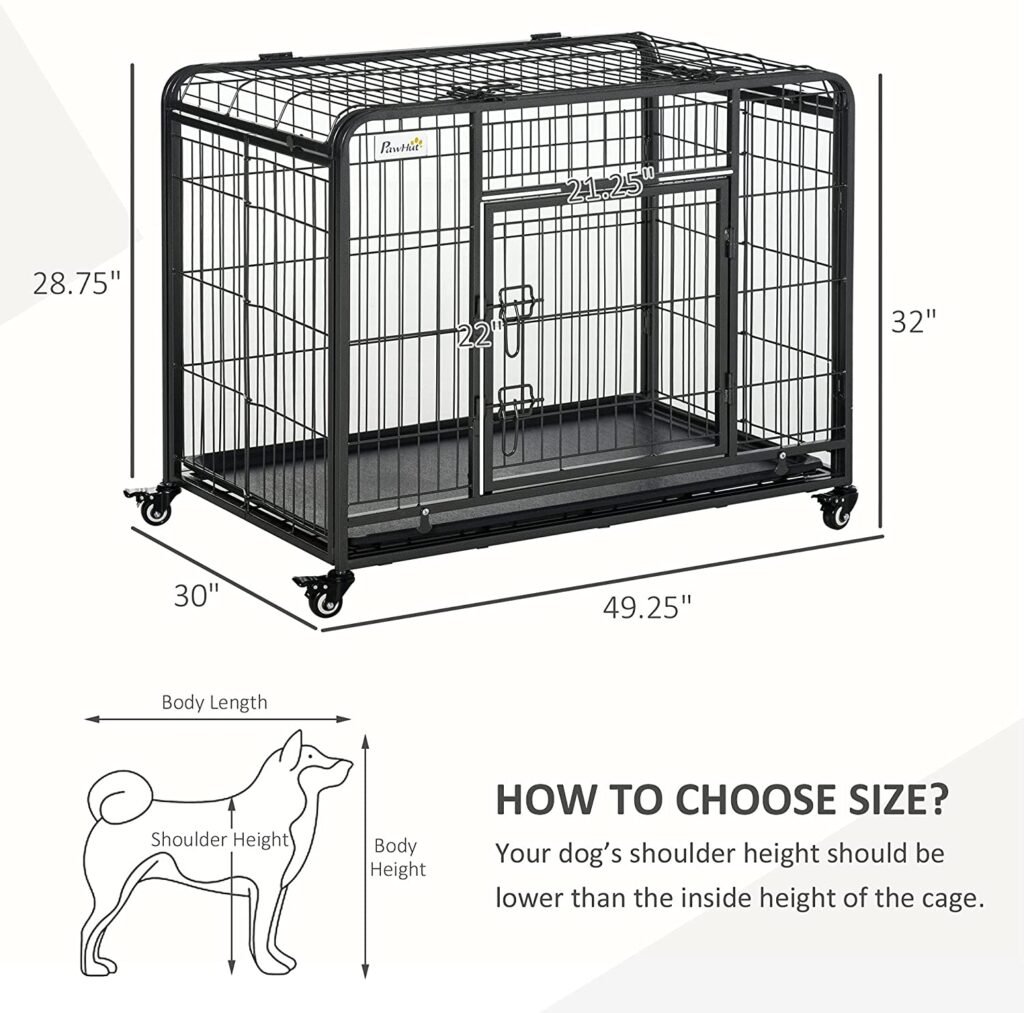 Some great things to consider when choosing the best dog crate for your German Shepherd puppy or full grown-up dog:
Proper crate size, dimensions, and dimensions
Design for flexibility, comfort, and safety
The durable and sturdy structure that can stand up to some wear
Proper crate type
Appropriate materials
How the dog crate fits in with your plans for training your German Shepherd dog or puppy
What size dog crate do I need for a German Shepherd? – (42 & 48 inch crates for German Shepherds)
A 42-inch (usually XL) or 48-inch dog crate (usually XXL) is generally suitable for a German shepherd, depending on its size.
German shepherd males average 60-65 cm (24-26 inches), and weigh 30-40 kg (66-88 lbs). Females average 55-60 cm (22-24 inches), and 22-32 kg (49-71 pounds).
An extra-large crate German Shepherd puppy of 42 inches with a divider panel should ideally weigh 71 to 90 pounds for an adult or large dog.
The extra-large dog kennels of 42 inches usually have the following dimensions:
42L x 28W x 31H inches
Some owners of very large German Shepherds (90 pounds plus) may choose a 48-inch dog crate (XXL), but it is important to measure your GSD before purchasing a crate of any size.
48 inch XXL dog cans usually have the following dimensions:
48L x 30W x 33H inches
All we have done is we had researched the best and brought the most useful dog crate information in this guide, as well as list some of the top dog crate options.
Let's take a look!
Best Dog Crates for fully grown-up German Shepherds
Our Pick: MidWest Homes for Pets Dog Crate (Check Latest Price)
Heavy Duty: PawHut Heavy Duty Dog Crate (View Specifications)
Value for Money: Dog Crates for Extra Large Dogs – XXL Dog Crate 48″ (Check Price)
Another Good one: COZIWOW Heavy-Duty Large Dog Cage Crate (View Price)
Last but Not Least: PawHut Folding Design Heavy Duty Metal Crate (View Price)
---
Free Divider Panel, Durable Dog Tray, Handle, 4 'Roller' Features Floors & Midwest Quality Guarantee 1 year warranty on this crate 'All-Inclusive Dog Crate'.
XL Double Door Folding Dog Crate is ideal for dogs weighing 90 to 110 pounds adult | The flexible divider panel allows the crate to expand as your dog grows The iCrate measures 48L x 30W x 33H inches
---
The best this about this is its heavy-duty metal and It is made with steel gauge tubes frame and solid steel net for stable construction and is most suitable for dogs like Doberman pinscher, German shepherd, Rottweiler, etc.
It has two points of access: a large front door and an easily openable top and the front door is secured with a double-bolt lock and fitted with a small door
1 Removable bottom tray and 4 caster wheels for easy movement, a lock to prevent unintentional movement is fitted for conveyance.
Also Read: Can I Use Human Shampoo on my Dog in Emergency?
---
Suitable mostly during the puppy stage and can use even for adult dogs as the waste-collecting tray is constructed with heavy-duty ABS plastic for long-lasting use.
Good for un-potty trained puppies as the waste-collecting stay is good and is low in weight.
You can take it along with you in your car, as it is fully foldable.
Available in small, medium, large, x-large, xx-large, and xxx-large. (Check Size Specifications)
---
Most suitable for aggressive dogs as it is made of strong and durable metal material, corrosion-resistant. The frame coating is non-toxic and environmentally friendly, even if your dog bites or chews, it will not harm your dog.
Highly polished and so the smooth metal surface keeps your pets away from scratching.
It comes with a removable floor tray that will catch trash and waste from your dog. The trey can be easily taken out so it can be cleaned daily if needed. 360-degree swivel casters help in easily moving it anywhere and can lock both casters to prevent accidental slipping.
---
With a view to longevity, they had made the construction of a dog crate with strong metal wire welded together to demonstrate long-term strength. Due to that simple design, the dog cage can be easily folded to a more portable size.
This not only helps move the dog home but also makes it easier to store aside when not in use!
There are four rolling wheels at the bottom of the crate for easy movement, but a tray under the floor can help catch any unwanted clutter from your pet.
---
Conclusion
Buy the best crate for German shepherd you can buy for your dog's safety.
The models we chose above are to facilitate your buying process and are the highest quality name brands. Weights and dimensions are provided.
Determine the strength of the crate you need for your German Shepherd personality and power level.
The crates provide your dog with a strong, safe, escape-proof enclosure that will not move or knock down.
Never compromise quality with your dog's safety and comfort.