Dog ramps are designed to help animals access elevated surfaces such as beds, beds, and cars, and are usually made of wood, plastic, or foam.
Each of these materials has benefits. For example, wood is sturdy and can withstand a lot of weight, but plastic is lightweight and easy to turn around.
Before you buy, consider where and how your pet will use the ramp. Look for a ramp that is high enough to reach the intended surface.
And make sure it has some kind of non-slip base, so it keeps your pet safe when it climbs.
Another important thing is portability.
Some ramps fold down or collapse like a telescope
Take up less space when stored
Ideal for vehicle use
While others are designed to be more permanent fixtures in your home.
With so many dog ​​ramps to choose from, it will be the best narrow one for you and your dog.
But we have done the research for you and we think the best value and structure to meet the needs of most dogs.
We will look at ramps first, and then a ramp purchase guide with the most common ramp questions so you can decide which ramp is best for you and your furry friend.
We had classified the dog ramps into 3 categories based on the usage type and we had picked the best among each type below
---
Dog Ramps for Car
Our Top Pick
PetSafe Happy Ride Deluxe Telescoping Pet Ramp
Good for SUV's Type Vehicles or and can be used Next to your Bed.
4 different Models to Choose from, Supports 200-300 lbs,
Lightweight Easy-Fold Design,
Carpeted – Up to 350 pounds.
---
Dog Ramps for Bed
Our Top Pick
PetSafe CozyUp Bed Ramp for Dogs and Cats – Durable Frame Supports up to 120lb
Furniture Grade Wood Pet Ramp with Cherry or White Finish
High-Traction Carpet Surface
Great for Older and large breed dogs
---
Multi-Purpose Dog Ramp
Our Top Pick
PetFusion Multi-Purpose Pet Stairs, Foldaway Cat & Dog Steps.
Dog Toy Basket & Storage
Smart Multi-Functional Design
Ideal For Small/Medium Dogs & Cats
---
Now let's get into the detailed guide in choosing the right dog ramp for your furry friend.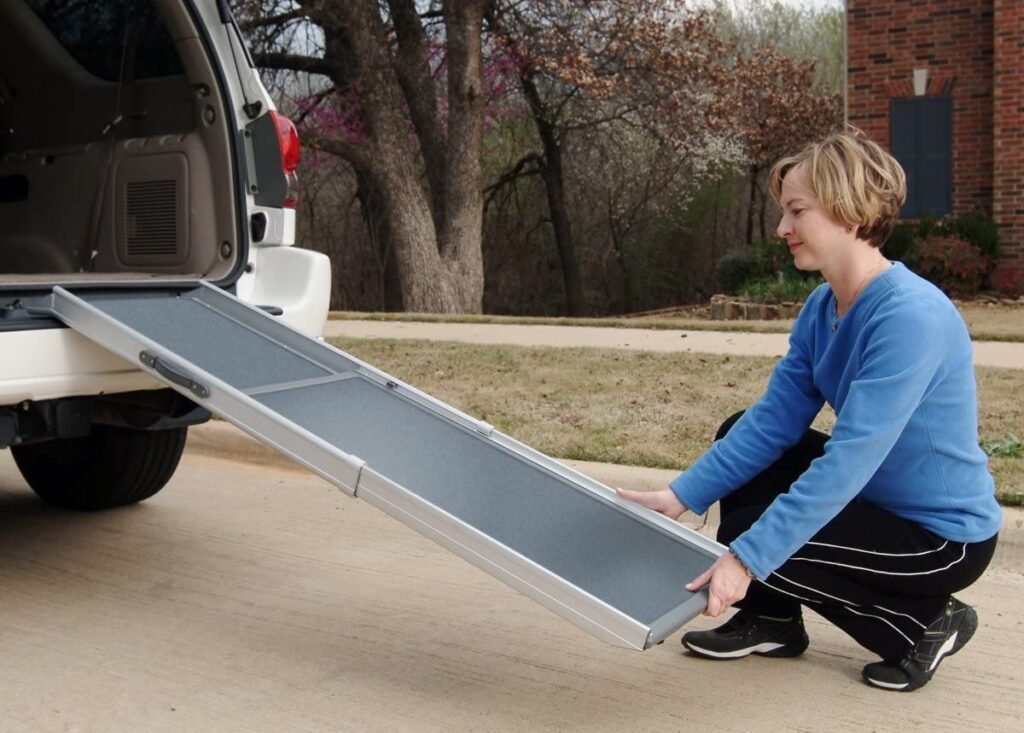 The PetSafe Telescoping Ramp is made of aluminum and it weighs just 13 pounds and slides with secure locks for easy storage and transportation without pinched fingers.
Telescoping ramps work well when you need the convenience of closing gaps of different lengths. It is 39 to 72 inches long and 17-inches wide.
Built with side-rails, this ramp ensures your dog's comfort and safety for easy access to any car, truck, SUV, or RV.
The structural structure of the ramp was tested for safety at 400 pounds and provides a non-skid sandpaper-like surface to prevent slips.
If you are concerned about its stability, the ultra-optical design and the four rubberized feet are stable with low bending on any surface.
own carrying case is attached to the package.
---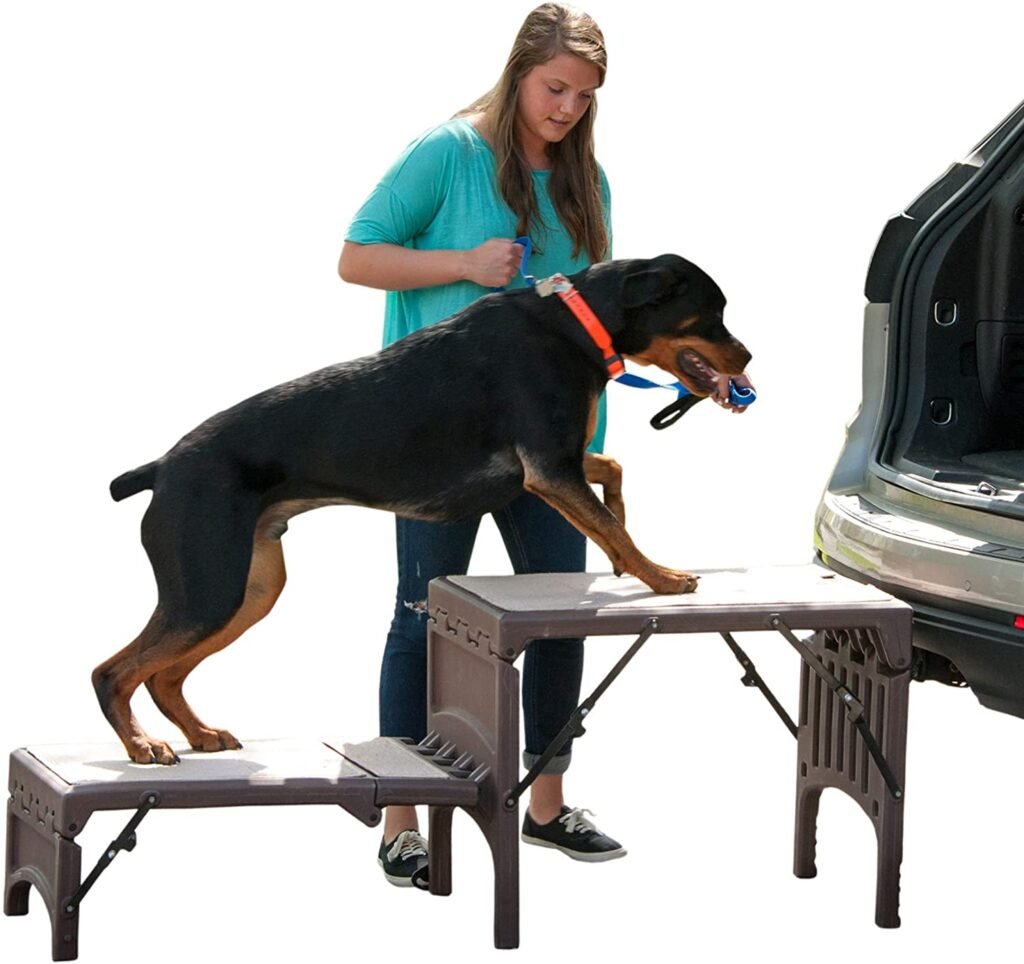 Everyone needs help once and our pets are no different. If your dog is facing trouble getting up on the couch or bed or even in the car, this free-standing ramp is a great fit.
It is lightweight at 17 pounds and can safely handle a dog up to 350 pounds.
Made of heavy-duty reinforced plastic, this ramp can be folded for easy transport or stored in compact places.
It has a patent-free design, so there is no need to worry about stability, as it is self-supporting and does not need to rest on furniture or vehicle.
The walk area is made with a high-quality pressure gripping surface for comfort and traction and can be removed for cleaning or replacement.
---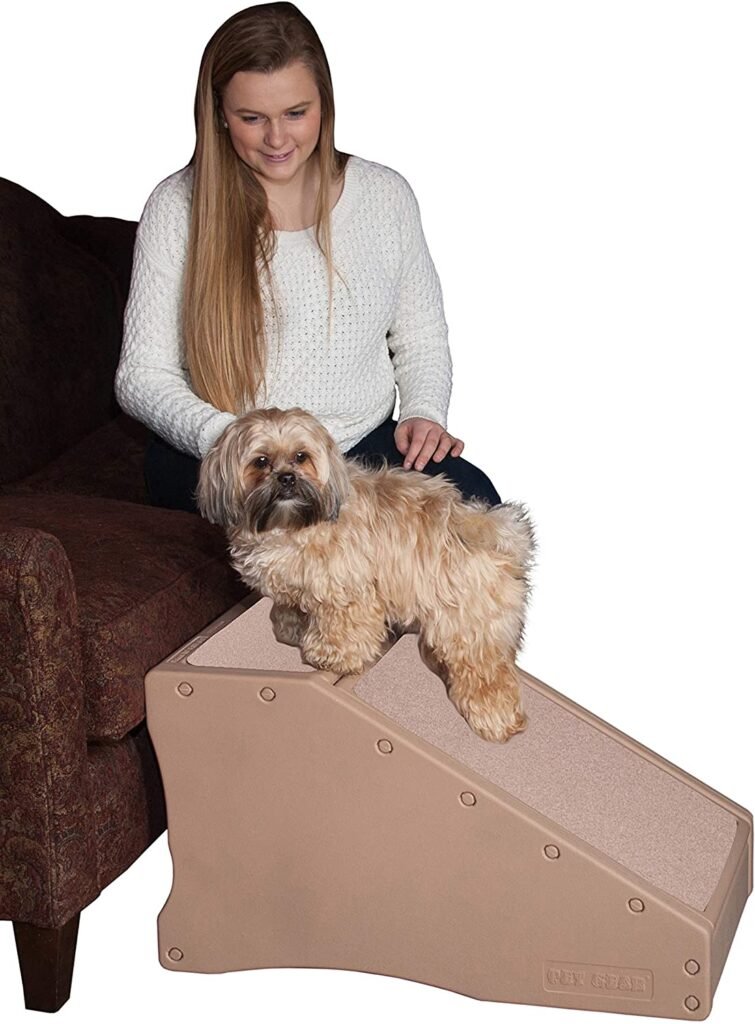 Even small dogs can use ramps to prevent injuries to their joints and backs, and this small, lightweight ramp fills that bill.
One more pet gear ramp with Supertrax for your small breed dog's paw comfort, and unlike most tread surfaces, it is easy to remove and machine washable.
This small ramp weighs just 8 pounds and reaches a height of 18 inches. Perfect for beds and chairs when your little one wants to hug.
---
Also Read: 5 Best Outdoor Dog Kennels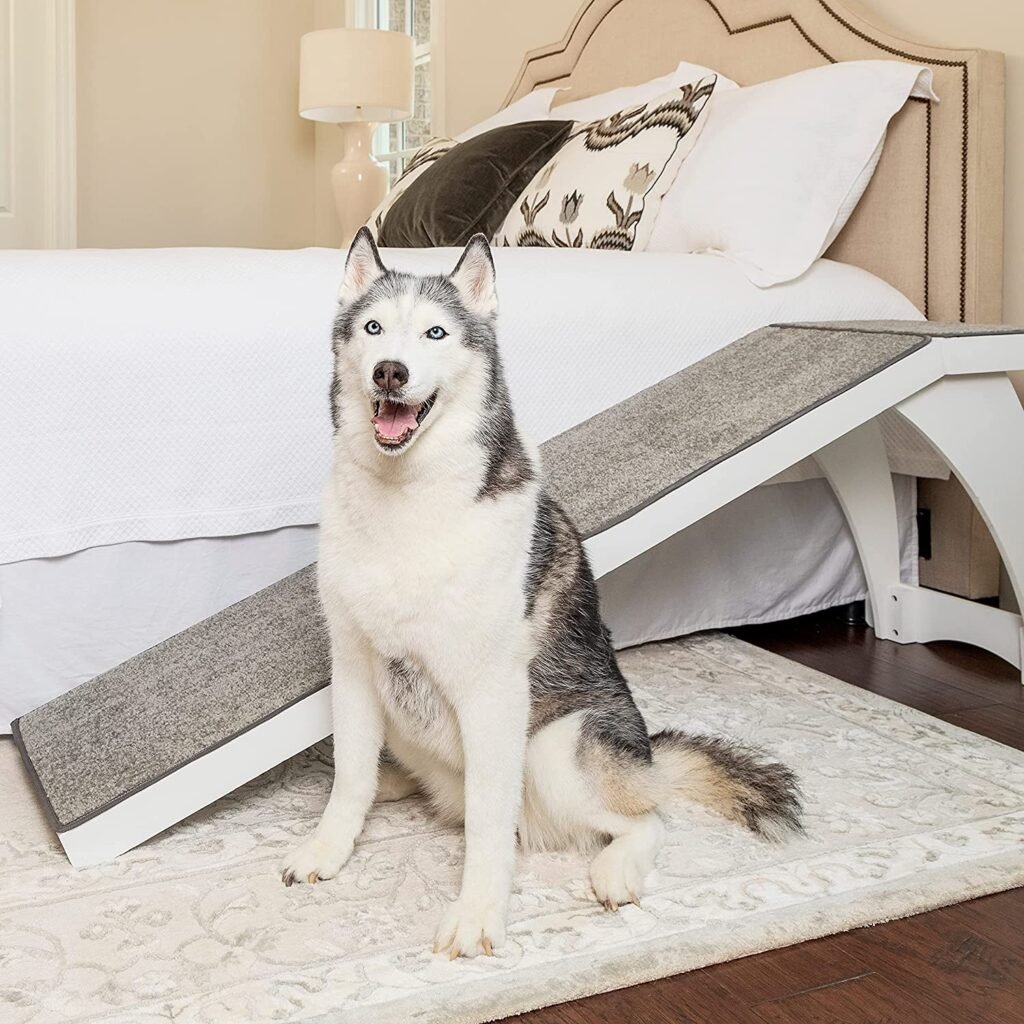 If your flower is hard to hug on your bed or on the couch, it may be time for a ramp.
PetSafe CozyUp Fixed Ramp is made of quality furniture-grade solid wood available in cherry or white.
Surface heavy-duty carpet to keep your puppy's feet pampered and prevent slipping. The ramp is 70 inches long, but only 16 inches wide to accommodate smaller spaces.
PetSafe designed this ramp for indoor use, so if you want a ramp outdoors or on the go, this may not be for you.
It is a stable ramp, it does not shrink for easy storage but is very sturdy structured, and durable with a gentle incline for the comfort of your pet.
The weight capacity of this ramp is 120 lbs., It is suitable for dogs of all sizes.
---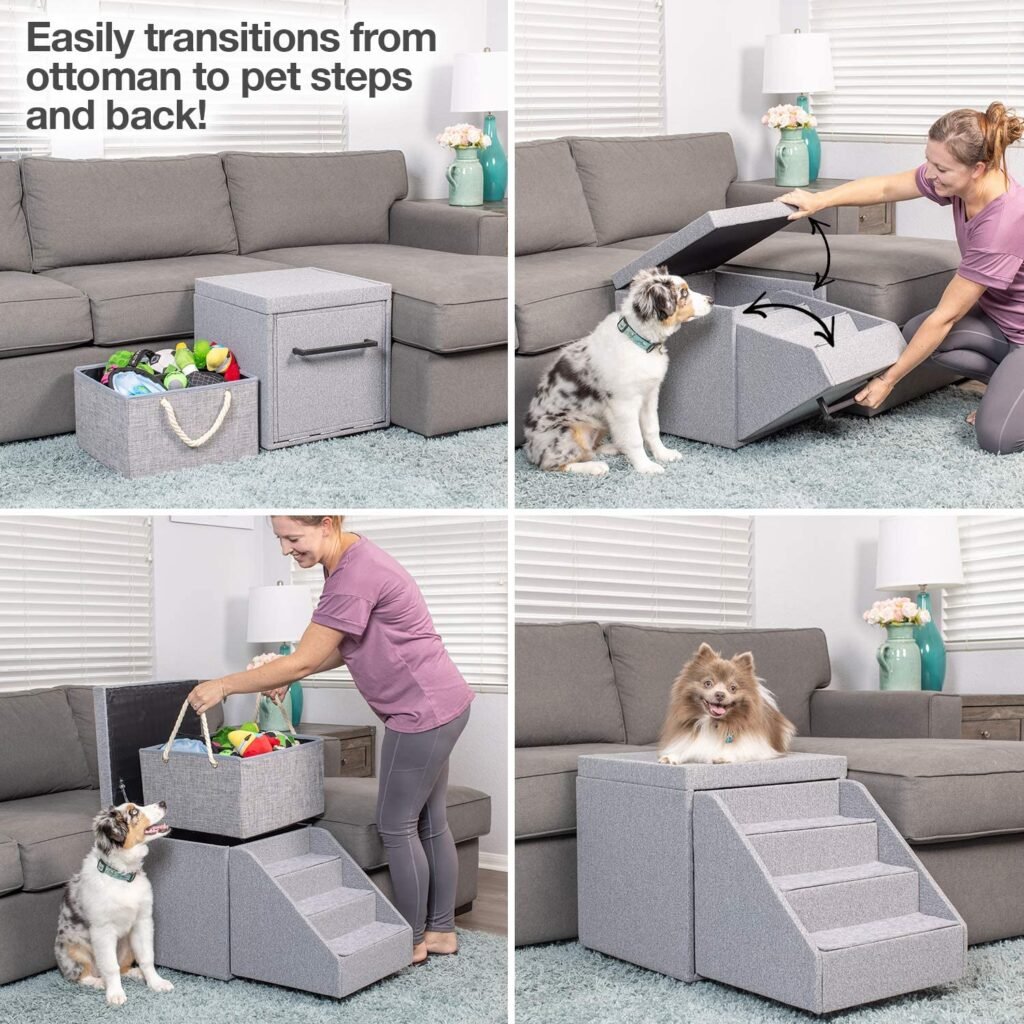 This portable and Multi-Purpose dog ramp is perfect if you want a ramp with multiple uses.
Weighing in at 17 pounds, the ramp is made of reinforced plastic with an artificial turf tread surface that is easy to remove for cleaning.
It is too small for small to medium-sized dogs to walk comfortably but is designed to weigh up to 50 pounds.
Versatile for use around the house or on the go, this has a ramp‌ with rubberized ends to hold most surfaces and fold in half to store in tight spaces.
---
Why does your dog need a ramp?
It is good for your dog to get in and out of your vehicle and eagerly jump on the bed or couch, but sadly it can make it more difficult for older and sick or older dogs to reach those heights.
If your dog is young, there may not be a ramp on your radar, but vets agree that ramps are a good idea for dogs of any age, small and large and that they are good for the rest of their lives.
Small dogs with short legs and tendons can also be subjected to high pressure from a short jump out of bed.
These can genetically predispose to patellar luxuries or, like the Dachshunds, to spinal weakness.
Start using ramps in advance to prevent preventable injuries and protect your dog's joints and its senior years.
Large dogs are known to have joint problems, including arthritis and hip dysplasia, and vets are especially helpful for ramp use, especially when entering vehicles and high beds and furniture.
Using the ramp from an early age means that your dog will continue to enjoy high mobility with less pain during their senior years.
Conclusion
Even if you have never considered a ramp before, it is a good idea to consider one now, regardless of your dog's age.
Whether you need a car ramp or a furniture ramp, the ramps protect the joints and back of your pooch so they will continue to share your adventures.