Why Do Dogs Move Their Eyebrows? Dogs are fascinating creatures with a range of expressions that can tell us a lot about their thoughts and feelings. Have you ever noticed how your dog's eyebrows move or twitch?
While this may sound like a silly quirk, there is a reason behind why dogs move their "eyebrows" and it's important to understand why. Join us as we explore the fascinating world of canine facial expressions and the science behind why dogs move their "eyebrows".
Why Do Dogs Move Their Eyebrows?
For dog owners, it's no surprise that our furry friends have a unique way of communicating with us. One of the behaviors you may notice is your puppy's eyebrow twitching. If you've ever seen your puppy do this, you might wonder why they move their eyebrows. In this article, we explain why dogs move their so-called "eyebrows" and what it means.
Do dogs have Eyebrows?
First of all, it's important to note an important distinction: dogs don't have eyebrows like humans do! Most puppies have a small area over their eyes where some pigmentation is visible near the peri orbital area/skin.
That's why they're often called "eyebrows" – they're usually the most visible hint of skin in the peri orbital area. So in a way, dogs don't "move their eyebrows" like humans do; instead, this area of pigmented skin changes shape in various ways.
Also Read: 5 Simple Tricks To Stop Aggressive Puppy Biting
Now that the distinction has been made, let's discuss why puppies may move these pigmented areas that some refer to as eyebrows.
Primarily, this movement is a form of communication. As one of the most intelligent animals on the planet, dogs are very adept at non-verbal communication, and it's fascinating to witness – moving eyebrows is one way our canine friends communicate with us.
Take dog ears, for example. We use our ears to express emotions and convey messages, and the same goes for our puppy's ears. The way a dog positions their eyebrows often reflects the position of their ears.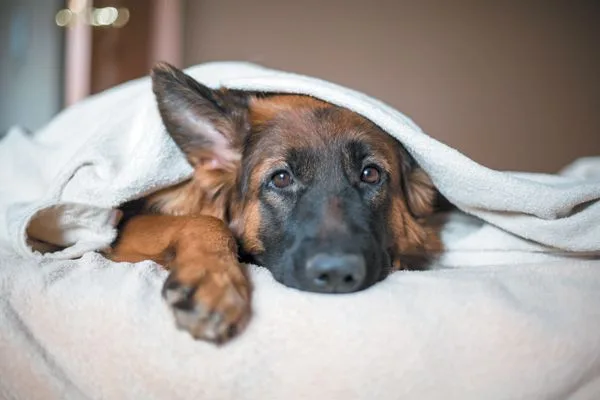 For example, when a puppy is unsure or perhaps scared their eyebrows often reflect the same position their ears take – down and slightly back. This can be a way of showing that the dog is not confident, or it can be a way of letting humans knows that the dog is uncomfortable with the current situation.
In addition to feelings of fear or uncertainty, dogs can also use their eyebrows to communicate when they are happy and relaxed. Have you ever seen a puppy with raised eyebrows and a small smile? If so, you may have encountered your puppy telling you that he or she is satisfied. Although every puppy is unique, usually raised eyebrows and relaxed body language along with a small smile are indicators that a puppy is content and satisfied with its surroundings.
At the end of the day, understanding why our pups need to move their peri orbital area is vital to building a strong and trusting bond with your pup. Although some dog behaviorists believe this form of communication is more natural than learned, it's important to recognize that our pups are communicating with us.
Knowing why they do this can help owners tune in to their pup's emotional state, calmly and effectively supporting our pup's emotional well-being.
Can all dogs move their eyebrows?
The answer to this question is yes and no. Some breeds of dogs have the ability to move their eyebrows, while others may not. Poodles, Yorkshire Terriers and Shih Tzus can move their eyebrows, but other breeds such as Chihuahuas and Schnauzers may not.
A dog's temperament is also important in how well it has facial expressions. For example, some dogs may be more expressive and alert to the environment, given a better chance to move their eyebrows than non-vigilant dogs. On the other hand, some dogs have a more relaxed and less expressive nature, which means their eyebrows may not move as much.
Eyebrow twitching in dogs is an indication of high emotion and a sense of being alert to their surroundings. You may notice your puppy's eyebrows moving or twitching from the sound of a door knocking or you sneezing. Although it can be difficult for a dog to distinguish between surprise or anxiety, you can easily detect fear because of their posture, which usually includes the eyes and eyebrows.
Whether or not your puppy can move their eyebrows, it's always important to understand the movements they make and their facial expressions. As a dog owner, you can take it to the next level by familiarizing yourself with your pup's breed to preview its behavior and facial expressions. As long as the expression is one of joy and excitement, you know all is well and your puppy is safe.
Conclusion
In conclusion, research has shown that dogs move their eyebrows for a variety of reasons, and there is no single answer as to why. As dog owners it is important to be aware of the different behaviors of our furry friends so that we can better understand their behavior and body language.
Moreover, it is essential to tune in to specific behavioral signs that may indicate an underlying problem. With this in-depth knowledge, we can provide our beloved pets with the nutrition they need.