We all know that dogs love to play, and if you've ever seen a pup running around with a squeaky toys, you probably already know why – because those toys make them happy! But why is that? Why do dogs like squeaky toys more than other types of toys? The answer lies in the unique way that dogs interact with their environment. From their sensitive hearing to their natural curiosity, there are many reasons why dogs find squeaky toys so irresistible. In this blog post, we'll discuss some of the science behind how and why dogs love their squeaky toys.
Why do dogs love squeaky sound?
There are a few reasons dogs love squeaky sounds. For one, it's a high-pitched noise that can get their attention. Dogs also have a good sense of hearing, so they can pick up on the sound of a toy squeaking from far away.

Another reason dogs may love squeaky sounds is that it reminds them of prey. When a dog hears a squeaky noise, it may trigger their natural hunting instinct and make them want to play.

Whatever the reason, dogs seem to enjoy the sound of a squeaky toy – and it's one of the many things that make them so lovable!
Are squeaky toys good for dogs?
There are a lot of different opinions out there about whether or not squeaky toys are good for dogs. Some people think that they're great because they provide a fun way for dogs to play and stay entertained. Others think that they're bad because they can cause dogs to become anxious and stressed out.

So, what's the truth? Are squeaky toys good for dogs?

Well, it depends on the dog. Some dogs absolutely love squeaky toys and will play with them for hours on end without getting bored. Other dogs may not be as fond of them and may prefer to play with other types of toys.

Ultimately, it's up to you to decide what's best for your dog. If you think your dog would enjoy playing with a squeaky toy, then go ahead and get one! Just be sure to supervise your dog while he or she is playing with it to make sure that the toy doesn't become damaged or broken.
Reasons Why Dogs Like Squeaky Toys
As dog parents, we all know that our four-legged friends love to play with toys. But why do they love these toys so much? Let's take a look at the reasons why dogs love squeaky toys.
First, squeaky toys provide excitement for our furry friends. When a dog hears the high-pitched sound of a squeaky toy, their curiosity is piqued and they are encouraged to play. It's a great way to keep your pup entertained and engaged while you're away or busy doing something else.
Also Read: Why Is My Dog's Tongue Turning Purple?
Second, dogs are naturally curious animals and will often investigate any type of new object they come across. Squeaky toys provide an intriguing sound and texture that encourages them to explore and play.
Third, being playful is an important part of a dog's life. Toys like squeakers provide an outlet for their natural energy and instincts. The sound and texture of the squeaky toy also provides a great opportunity for them to practice their fetching and chewing skills.
Finally, some dogs may also use squeaky toys as a way to get attention from their owners. If the puppy knows that playing with the toy will get them some extra snuggles or treats, they are more likely to reach for the toy instead.
So there you have it! These are just a few reasons why dogs love squeaky toys. Whether for stimulation, curiosity, playfulness or attention, squeaky toys can provide hours of entertainment for your pup. So the next time you're looking for a new toy for your pup, consider a squeaky toy – they're sure to love it!
The Benefits of Squeaky Toys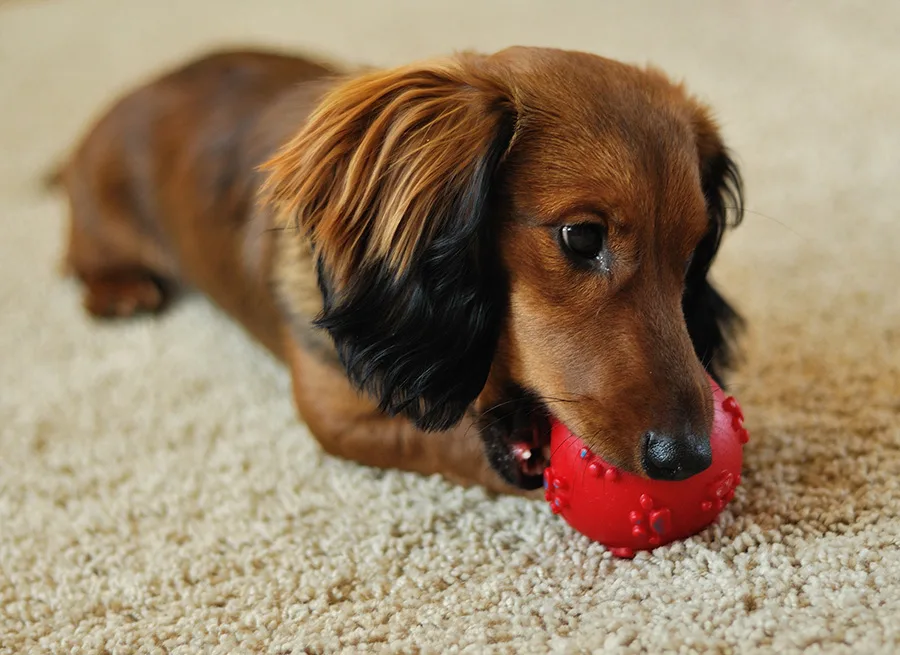 Do you have a dog that loves to play? If so, you might consider turning them into a puppet. These toys are designed to provide an enjoyable and stimulating playtime for your puppy. Apart from providing entertainment, there are many other benefits of using squeaky toys. Let's look at the three biggest benefits of using squeaky toys.
Provides Fun Mental Stimulation: Squeaky toys provide an engaging and stimulating way for your pup to be mentally active. They are designed to help keep your puppy mentally stimulated and engaged. This helps keep them from getting bored or restless. It is also a great way to keep their minds sharp and help them learn new things.
Teaches Dogs Self-Control: Squeaky toys can also help your puppy learn self-control. As they play with the toy, they learn to control their impulses and focus on the task at hand. It helps them stay calm and focused in situations where they might become overly excited or anxious.
Helps Dogs De-Stress: Finally, squeaky toys can help your pup de-stress. Playing with the toy can distract them from any anxious or stressful thoughts. It is also a great way to give them the physical and mental exercise they need.
These are just three of the many benefits of using squeaky toys. So, if you're looking for a fun and stimulating way to keep your pup entertained, consider turning them into a toy. You'll both be glad you did!
Can squeaky toys improve dental health of a dog?
Squeaky toys can help to improve your dog's dental health by acting as a natural toothbrush. When your dog bites down on the toy, it will help to remove plaque and tartar from their teeth. This can lead to healthier gums and teeth, and can also help to prevent bad breath.
How to safely make your dog Play With Squeaky Toys
Safety is a top priority when it comes to using puppets. These toys can keep your pet entertained for hours, but they can also be dangerous if not used properly. Before you give your pet a kibble, it is important to check that it is of high enough quality and that there are no small pieces that your pet could swallow or choke on.
When choosing a squeaky toy, look for one made from durable, non-toxic materials. Make sure there are no small pieces that can come loose and be swallowed or ingested. If there are any moving parts, make sure they are securely attached and the toy is in good condition.
Once you've chosen a squeaky toy that's safe for your pet, keep an eye on them during play. Pets tend to get carried away with these toys and bite off pieces or try to swallow them. If you notice any signs of your pet being overly aggressive with the toy, remove it and replace it with something else.
Finally, squeaky toys are not indestructible. If your pet keeps biting or chewing on the toy, it is likely to get damaged over time. Check toys regularly for signs of wear and tear and replace them as soon as possible to avoid any potential safety hazards.
These simple safety tips will help you make sure your pet is playing safely with their toy. While these toys can provide hours of entertainment, it's important to use them responsibly and keep an eye on your pet during play.