Can Dogs Taste Spicy Foods? Dogs definitely have a different palate than humans. But can they taste spicy food or do they have any sense of it? In this blog post, we'll take a closer look at the subject and see what science tells us about how dogs perceive spicy flavors.
Table of Contents
What is spicy food for dog?
Spicy food may be palatable to humans, but not good enough for dogs. Dogs have a very different digestive system than humans and they cannot tolerate spicy food like we can. In fact, spicy food can cause digestive problems like colic and diarrhea in dogs.
If your dog eats something spicy, it's important to provide plenty of water and monitor them for any signs of distress. To avoid this problem altogether, it's best to avoid feeding your dog spicy or hot foods like peppers or chilies. Stick to plain, high-quality dog food for your puppy's meals.
Can dogs taste spicy food?
Answer: Yes, dogs can taste spicy food. Dogs have taste buds similar to humans and can detect a wide variety of tastes, including spicy ones. In fact, some dogs experience the sensation of eating spicy foods.
However, it's important to remember that dogs have different digestive systems than humans, and they may not tolerate spicy foods as well as we can. Spicy foods can also irritate a dog's mouth and stomach, so it's best to check with your vet before giving your dog spicy foods.
Dogs and Spicy Foods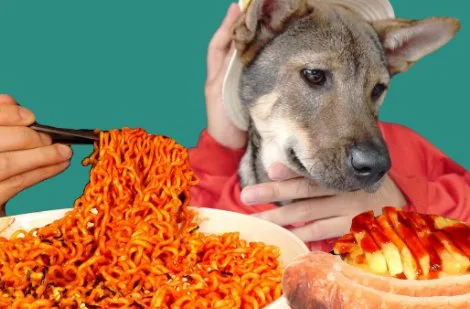 It's no secret that dogs are our favorite furry friends. They are loyal, loving and always up for a good time. We love to take them for long walks, play with them at the park and give them plenty of belly rubs.
1. What do dogs taste?
When it comes to dogs' taste buds, they are actually quite similar to humans. Dogs have the same five tastes as humans—sweet, sour, salty, bitter, and umami—but they cannot perceive all five as well as humans. Although they can still taste the same range of flavors, their taste buds do not detect flavors as accurately as humans.
Also Read: Is Basmati Rice Ok For Dogs? Discover the Pros and Cons of it
A flavor that dogs don't particularly like is spice. Spices range from mild to hot and include flavors such as chili peppers, garlic, ginger, and some types of hot sauce. While some dogs may enjoy the taste of mild spices, most dogs do not mind them.
2. How much spiciness can dogs sense?
So how much spice can dogs absorb? It depends on the individual dog, but in general, most dogs cannot detect anything more than a mild spice. Of course, there are always exceptions to the rule—some more sensitive dogs can detect moderate spice levels.
If you're looking to give your pup a spicy treat, it's important to remember that it should always be mild. Anything too spicy can upset their stomach or even cause vomiting. So if you're looking to give your pup a flavorful treat, stick with something mild and won't make them run for the water bowl.
Whether you cook for your pup or give them a tasty treat, it's important to remember that dogs don't absorb spice. Stick with mild flavors and avoid anything too spicy and you're sure to please your pup.
Health Effects of Spicy Foods on Dogs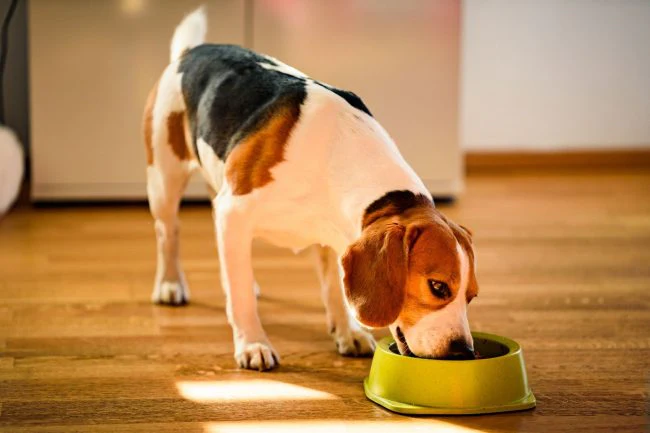 There's no doubt that most of us enjoy spicy foods from time to time, but when it comes to our furry friends, we need to be a little more careful. Can dogs really eat spicy food and can it affect their health?
The short answer is yes, dogs can eat some spicy foods and this can have positive or negative health effects. However, it is important to understand that dogs may have a different reaction to spicy foods than humans.
For example, dogs do not have the same taste buds as humans and are not as sensitive to spicy tastes as humans. Therefore, when feeding your dog a spicy meal, it is important to know that you should choose a milder version than you would eat yourself.
When it comes to the health effects of spicy foods on dogs, there are both potential benefits and risks. Let's see once.
Benefits of Spicy Foods for Dogs
One potential benefit of giving dogs spicy foods is that it may help improve their digestion. Spicy foods help speed up the digestive process and reduce the occurrence of constipation.
Spicy foods help support the immune system and reduce inflammation. By eating a variety of spicy foods, dogs can get antioxidants and other beneficial nutrients that support their overall health.
Dangers of Spicy Foods for Dogs
While there are some potential benefits to feeding dogs spicy food, there are also some risks to consider.
The most obvious risk is that dogs can develop colic or digestive problems if they eat foods that are too spicy. Spicy foods can also irritate the lining of the esophagus, stomach, and intestines, leading to inflammation and other problems.
If you choose to feed your dog spicy food, it's important to do so in moderation and make sure your pet doesn't have any adverse reactions.
Overall, when it comes to the health effects of spicy foods on dogs, it's important to understand the potential benefits and risks so you can make an informed decision about whether or not it's right for your dog. Despite some potential benefits, it's important to feed your dog a balanced diet and remember to always monitor their behavior for any signs of distress.
Signs of a Dog Tasting Hot Spice and feeling bad
No one wants to see their beloved pup suffer the effects of tasting something too spicy. Unfortunately, this happens all too often. From grabbing the wrong treat off the kitchen counter to snacking on a dish of spicy salsa left on the dining table, dogs can find themselves in a pickle when they have a taste for anything too hot.
If your puppy has tasted something very spicy recently, there are some signs to indicate that he is feeling the effects. Here are some common signs that a dog is feeling bad after tasting a hot spice:
Excessive Gas: Excessive gas is one of the first signs that your pup is eating too much spicy food. If your puppy is passing more gas than usual or emitting an unusual odor, this could be a sign that something in their stomach is having trouble digesting.
Stomach aches: If your puppy is going around in circles, panting, or licking their lips excessively, they may be experiencing colic pain. This may be a sign that they are having trouble digesting food.
Diarrhea: If your puppy eats something very spicy, it can lead to diarrhea. This is a sign that their stomach is unable to digest food.
Thirst: If your puppy is drinking more water than usual, it is a sign that he is thirsty due to the spicy heat.
Vomiting: If your puppy is vomiting, they may have eaten something too spicy and their body is trying to reject it.
If your puppy is exhibiting any of these signs, it's important to take them to the vet for a check-up. A veterinarian can assess the situation and recommend the best course of action for your puppy. In the meantime, try to keep your puppy away from spicy foods, as they may be more sensitive than usual.
It's never fun for your pup to feel bad after tasting something too hot, but if you notice signs that a dog is feeling bad after tasting a hot spice, you can take the necessary steps to help them recover.
Spicy Food Reactions on dog and How to Treat Them
The most important step in treating a food reaction is to remove spicy foods from your puppy's diet. Depending on the severity of the reaction, your vet may recommend a bland diet for a few days to allow their stomach to settle. They may also prescribe anti-nausea medications to help calm their digestive system.
If the reaction is severe, your vet may recommend additional tests to determine the cause and best treatment plan. This may include blood work, X-rays, or an ultrasound. If your puppy's reaction is due to an allergy or intolerance, your vet may prescribe an elimination diet to help identify the trigger food.
When it comes to feeding your puppy, it's important to always keep their safety in mind. While some dogs may like spicy foods, it's important to understand potential reactions and what to do if your dog is intolerant to spice. If your puppy has a reaction, contact your veterinarian immediately. With the right care and attention, you can help keep your puppy happy and healthy.
Conclusion
The conclusion of our research on dogs liking spicy food seems to be yes. Dogs have a heightened sense of smell and taste, which enables them to detect and enjoy the taste of spicy foods. That's why many pet owners now include some type of spicy food in their dog's diet, such as chili peppers, jalapeños, and other spicy foods.
However, it is best to feed your dog small amounts of spicy foods as they are too strong for sensitive taste buds. You should avoid feeding them large amounts of spicy foods as they may suffer from digestive problems. Additionally, you should always consult your veterinarian before introducing any new food into their diet.
Overall, it is clear that dogs can enjoy the taste of spicy foods, but precautions should be taken to ensure their safety. Spicy foods should be introduced in small amounts and monitored closely. If your dog does not enjoy the taste of spicy foods, it is best to choose a mild diet.
Finally, it's important to remember that all dogs are different and have different dietary needs. Therefore, it is best to consult your veterinarian to ensure that your dog's diet meets all their nutritional needs. This way, you can ensure that your canine companion is getting the best nutrition possible.